La seconda parte della carriera di Steve, anzi dei Toto, li vede sicuramente protagonisti più nel pop che nel rock, anche se nella seconda metà degli anni '80 e per buona parte dei '90, le due cose hanno praticamente coinciso (dal movimento Hair metal da Europe a Bon Jovi) almeno per il mercato americano. Può sembrare una affermazione inutile e gratuita ma invece è proprio inerente all'analisi del sound: in quel periodo infatti le sonorità rock si ammorbidiscono per andare incontro al gusto di una massa sempre più larga, come quella del pop appunto e poter accedere così a canali come le radio e le tv, e non più ad una nicchia di pubblico abituato a digerire anche le sonorità più crude.
E' normale allora che nelle chitarre di grandi guitar hero come Van Halen e lo stesso Steve Lukather (per altro molto amici nella vita reale), si usino senza problemi flanger e dsp come Lexicon, Eventide e molto altro, tutta una serie di equipment che solo cinque anni prima avrebbe fatto sentire delle femminucce i "duri a morire".
I tempi cambiano e il mercato detta le sue regole, almeno per chi vuole accedervi.
The Sevent One è un album di grande successo nel 1987, e fra varie pop song (fra cui la hit Stop Lovin' You) spicca un piccolo capolavoro, Home of the brave. Un brano dalle sonorità pop ma molto articolato dal punto di vista compositivo ed a tratti con nutrito di componenti progressive e symphonic rock, proprio come lo special di questa song, con unisoni e obbligati di tutto rispetto.
Il suono che oggi replichiamo utilizzando Amplitbe 4 ma con library aggiuntive rispetto al bundle, è sicuramente ottenuto nel disco con un equipment semplice di base (probabilmente un Marshall a giudicare dal tipo di saturazione) ma molto elaborato poi in fase di mix.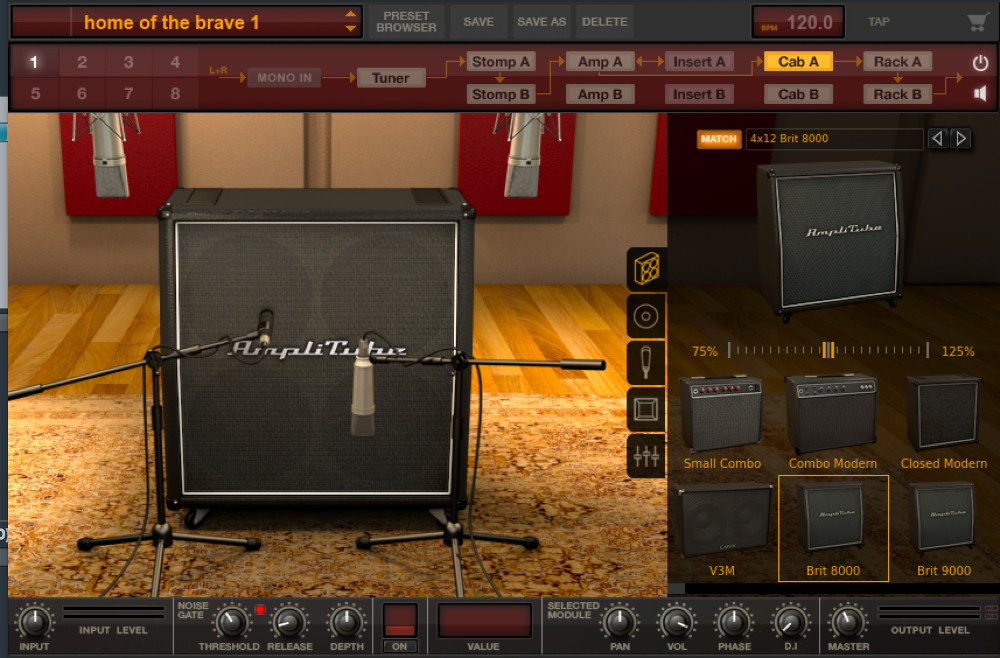 Nell'intro, all'unisono con un polisynth, si percepisce chiaramente un chorus dall'ampiezza d'onda abbastanza generosa, ed un ambiente stereo tipicamente "Lexicon", quindi lontano da room naturali e simili.
Per ottenere un sound così morbido ma al tempo stesso squillante, abbiamo bisogno di una grande compressione in ingresso per aumentare il gain ma anche per eliminare eventuali picchi e posizionare chorus e riverbero dopo il cabinet.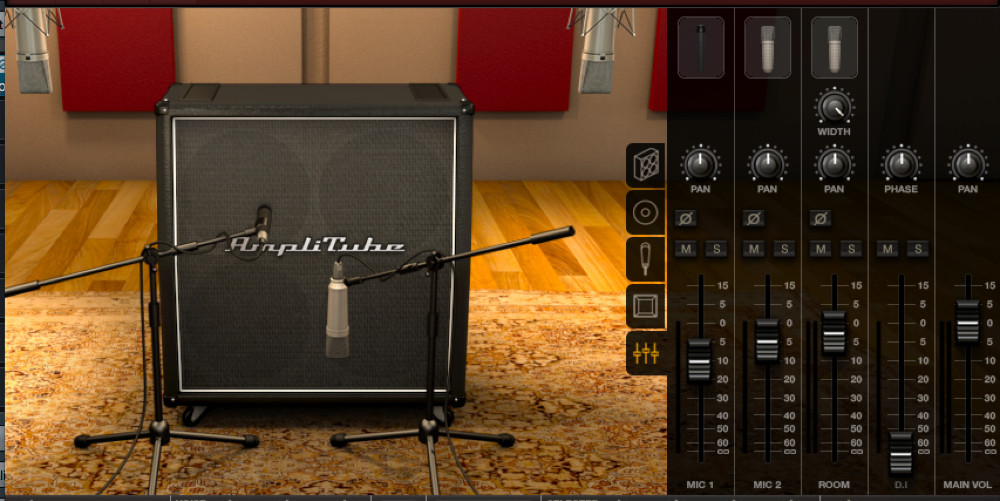 La parte centrale, lo "special" per intenderci, ha un timbro leggermente diverso. L'impressione è che la sorgente sia la medesima, ma che nel mix sia stata affrontata diversamente.
L'ambiente ora ha una room molto evidente, aspetto che rende fantastico l'accoppiamento con un rullante molto secco. Lo otteniamo allontanando il mic dal cabinet ed alzando considerevolmente i valori di room, ampliando anche il panorama stereo dei due microfoni in alto. I valori di gain sono più generosi così come il delay, di cui però dobbiamo assolutamente attenuare il feedback; effetto più in evidenza quindi ma con un minor numero di ripetizioni.
Infine sulla traccia è bene inserire una curva che valorizzi le alte frequenze dagli 8000 Hz in poi, e il gioco è fatto!