Nel 2014 Tim Lefebvre acquistò il pedale TightFuzz di Amptweaker per chitarra e ne fu da subito entusiasta, tanto che contattò l'azienda americana che gli fornì la versione da basso nella quale i controlli Tight, Edge e Tone sono spostati in basso di un'ottava e nel quale troviamo un potenziometro Dry Low come blend per la parte del lowend. Da quel momento il timbro di Tim è stato caratterizzato dal TightFuzz tanto che possiamo riconoscerlo in tanti dischi in cui ha suonato negli ultimi anni con artisti del calibro di: David Bowie, Tedeschi-Trucks ed Empire of the Sun. Quest'anno Lefebvre è stato ingaggiato da The Black Crowes per il reunion tour, così Amptweaker ha deciso di realizzare un'edizione limitata del Bass TightFuzz in suo onore.
Rispetto ai fuzz che troviamo sul mercato che hanno controlli ridotti all'osso, questo include Tone e Tight Control ormai un must dei pedali Amptweaker, per controllare i transienti e variare l'attacco; funzioni molto utili per scolpire il proprio suono e mantenere il lowend integro.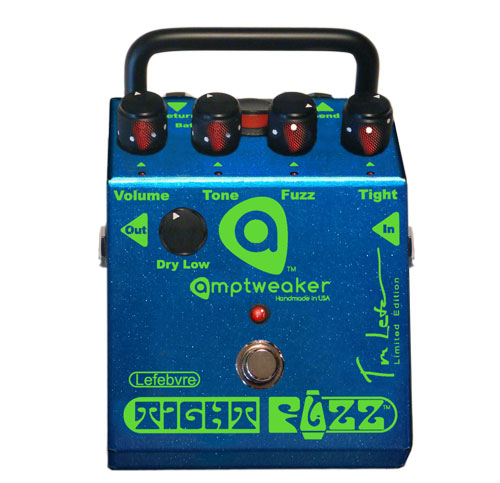 Lo stadio di uscita è in Germanio con una dissolvenza del gain più controllata, l'Auto Bias abbinato al pot di Fuzz offre un range di distorsioni dalle più pulite alle più grezze. Non mancano connessioni per fx loop pre/post switch per combinare altri pedali a TightFuzz. Il pedale è in vendita al prezzo di $ 250 per il mercato internazionale, attendiamo la conversione nella valuta europea.
I prodotti del marchio Amptweaker sono distribuiti in esclusiva per l'Italia da Voodoo Factory.