Brian May ha la fortuna, e sfortuna, di trovarsi a cavallo di due decenni fondamentali per l'evoluzione del "Guitar Rock Sound" e dell'evolversi insieme di tecnologia e costume, fattori che influenzeranno non poco la carriera dei QUEEN.
Abbandonata la vena più Rock e a tratti progressive, con parentesi operistiche e neo-classiche degli anni '70, gli anni '80 si annunciano più "frivoli" e sicuramente avveniristici. Una tendenza che l'intuito dei quattro non poteva lasciarsi sfuggire, tanto da siglare una delle colonne sonore più importanti di fine decennio (Flash Gordon) per replicare verso la metà degli anni '80 con un altro capostipite del cinema: Highlander.
Aspetti che potrebbero sembrare marginali ma che invece testimoniano l'attenzione della band verso le nuove tendenze, sempre pronti ad intercettare e in certi casi quasi ad anticipare le mode in arrivo….
Non è strano allora pensare che un singolo come Another One Bites The Dust, dal sound "disco" e funk, arrivi solamente 5 o 6 anni dopo We Will Rock You, anche se stilisticamente siamo lontani anni luce. Una riflessione sul tema meriterebbe molte pagine, la musica è cambiata più dal 1975 al 1985 che non dal 1990 al 2017 e forse qualche domanda dovremmo farcela, affrontando temi come l'estetica musicale ma anche la tecnologia di produzione e registrazione.
Detto questo, il sound "ottantiano" dei QUEEN, più moderno e raffinato, esalta ancora di più quella epicità e quel trionfalismo tipico degli esordi.
Brian rimane fedele al suo playing ma affronta il nuovo decennio con timbriche più importanti, e ne sono testimonianza brani come Hammer to Fall e I Want it All dove il protagonismo di Freddie a tratti cede il passo alla chitarra di May, per raggiungere livelli altissimi in The Show Must Go On oramai negli anni '90 su di un'onda emozionale che mai avremmo voluto toccare….
Con l'avvento degli anni '80 Brian esplora timbriche nuove per il suo stile, dalle chitarre clean di Another one Bites the Dust ad episodi "Rockabilly" come nel caso di Crazy Little Things Call Love. Ma l'aspetto forse più interessante è l'approccio con le parti più distorte, dove Brian doppia le parti ritmiche per creare un sound davvero epico, con una apertura stereofonica quasi senza precedenti. Un precedente in realtà c'era già nel 1974 con brani come Stone cold Crazy o Brighton Rock, ma sicuramente i mezzi di registrazione dell'epoca non rendevano merito.
Ora, nel 1984, tutto era più semplice ed i risultati raggiunti, eccelsi.
Il timbro sorgente non cambia di molto: i VOX AC30 suonano sempre a gran voce, questa volta con valori di gain sicuramente più importanti, il chorus fa la sua comparsa laddove necessario, ma a dare corpo al timbro è certamente la tecnica di registrazione, che prevede di doppiare esattamente le parti ritmiche su due diverse tracce per poter poi predisporre, in fase di mix, un panorama con una traccia completamente a sinistra ed una completamente a destra, creando quindi un panorama a a 180 gradi!
Abbiamo in questo caso utilizzato lo stesso preset del precedente articolo, modificando però sensibilmente due parametri: il boost (in ingresso) e la room. La saturazione in questo caso ha valori molto più importanti e sebbene non siamo in presenza di un timbro "Hi Gain", poco ci manca. La stanza di ripresa infine è più ampia, o meglio con una riflessione più evidente, che enfatizza l'aspetto "ritmico" del brano.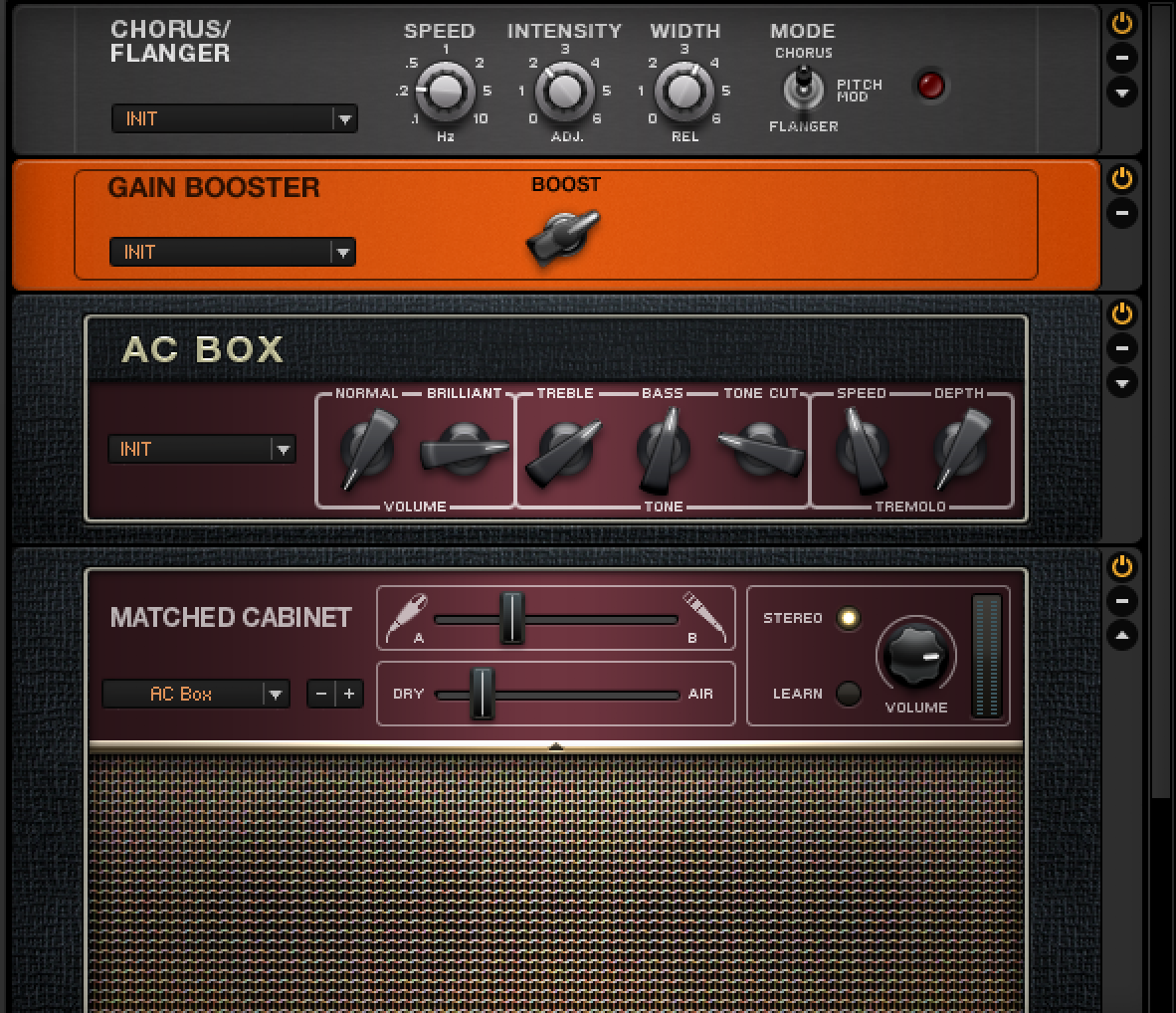 Le track vengono doppiate e inviate ad una traccia gruppo, provvedendo a posizionare una track completamente con Pan sul canale Left ed una sul canale Right.
Interveniamo infine sull'equalizzazione provvedendo ad enfatizzare le frequenza medio-basse, per esaltare la cosiddetta "pancia" del timbro, attenuando leggermente le frequenze più alte che il plug in potrebbe rendere fastidiose. Ora il timbro "air", a 180 gradi è nostro!