Il Julia è il pedale chorus/vibrato completamente analogico che solo qualche anno fa ha permesso all'americana Walrus Audio di piazzare il suo primo best-seller nelle classifiche mondiali dei pedali più venduti. Sarà presentato al NAMM e ve lo pubblichiamo in anteprima, la versione Julia V2 da molti attesa dopo le prime anticipazioni. Aggiornato al 2020, il Julia ora monta gli ingressi e uscite, ed alimentazione, nella parte alta, ha il sistema di soft-switching ed un artwork rivisitato da Adam Forster.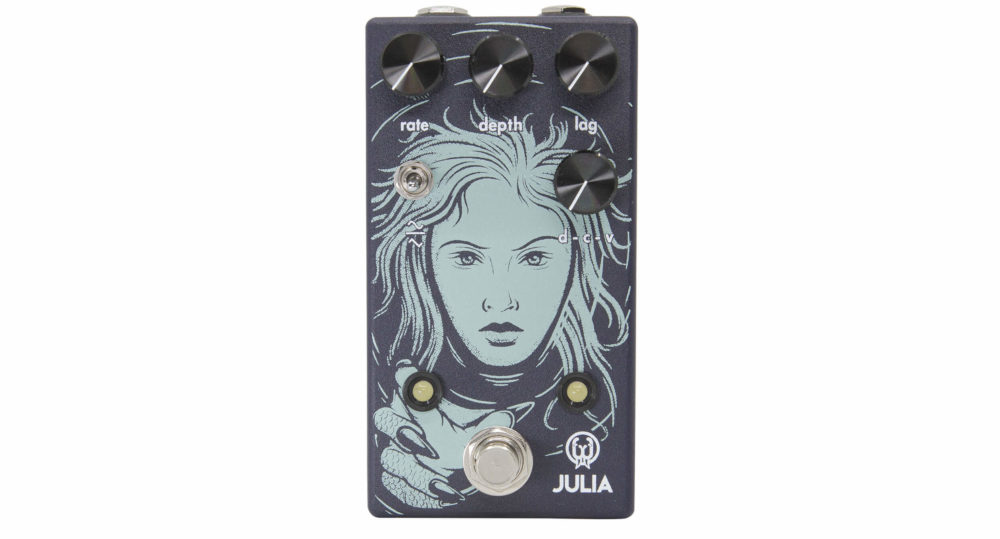 Julia può produrre da suoni chours morbidi fino ad un vibrato molto mosso, più tutte le sfumature che stanno nel mezzo grazie al controllo che ha reso famoso questo pedale, il D-C-V che consente di passare in modo continuo da suono Dry a Chorus a Vibrato, permettendo quindi potenzialmente infinite sfumature di questo effetto. Con ulteriori controlli come il Lag e la possibilità di selezionare le forme d'onda analogiche dell'LFO, è in grado di ricreare tutti i suoni classici chorus/vibrato ma anche di portarci in territori più sperimentali.
The #juliachorus V2 is now shipping and the videos from all our demo buddies are rolling out too. Go spend a little time on YouTube today and fall in love with chorus again. Top jacks, soft switch bypassing and updated art give Julia a little refresh for the new year!

Pubblicato da Walrus Audio su Lunedì 13 gennaio 2020
Tra le funzioni speciali troviamo il controllo Lag. La manopola Lag permette di impostare il ritardo temporale del centro di oscillazione da cui l'LFO inizia a modulare. Impostazioni più basse daranno modulazioni morbide e leggere, più alte o al massimo arriveranno ad effetti detune ribollenti. Il controllo Lag aggiunge una nuova dimensione al Chorus/Vibrato tradizionale.
Arriverà in Italia tra febbraio e marzo ad un prezzo di 209€.
Caratteristiche:
         Chorus/Vibrato completamente analogico
         Elementi di controllo: rate, depth, lag, d-c-v, wave-shape
         "Lag" imposta la timbrica del pedale: da chorus morbido a detune molto mosso
         "Lag" controlla il ritardo temporale da cui l'LFO inizia a modulare
         Forme d'onda analogiche selezionabili: sinusoidale, triangolare
         Controllo Dry-Wet (d-p-v) passa dal suono dry al chorus e poi al vibrato in modo continuo
         Input, output e alimentazione montati nella parte alta del pedale
         Soft-switch bypass
         Lo "Smart bypass switching" attiva l'effetto temporaneamente
         Pedale sia per chitarra che per basso, e qualsiasi strumento elettrico
         Alimentazione 9V DC, 30mA
         121 x 66 x 41 mm, 0.27 kg
         Realizzato in Oklahoma, USA
INFO